The days are long and the nights are short around the summer solstice that occurred a few days ago at 03:34 PM PDT on June 20th, 2016. How late should one stay up to observe the stars in a dark night sky?
At this time of year, Vancouver resides in a twilight zone where we never reach a fully dark night sky. Instead, we experience different levels of twilight. Twilight occurs when the sun is below the horizon, but there is still light in the sky caused by the refraction and scattering of the sun's rays in the atmosphere. Astronomers define three different types of twilight depending on how far the sun is below the horizon.
Civil twilight starts when the sun dips below the horizon and ends when the sun is 6 degrees below the horizon. There's enough light to see, but people turn on their lights to drive a car, and the streetlights are starting to come on.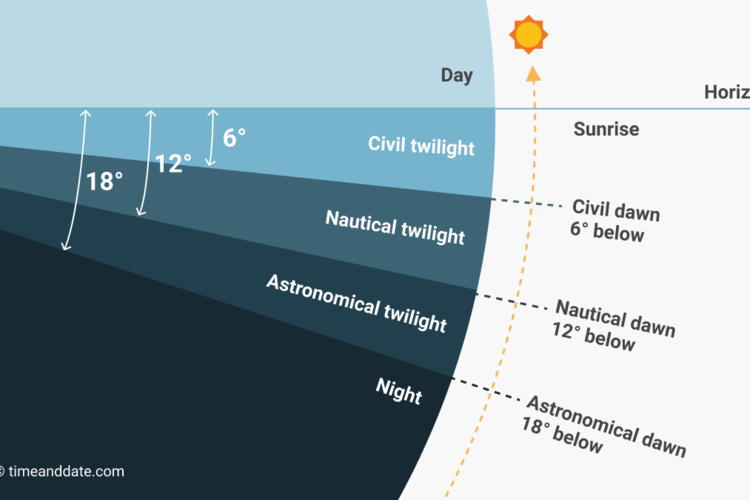 Nautical twilight  begins when civil twilight ends and lasts until the sun is 12 degrees below the horizon. The sky can still be distinguished from the distant horizon when at sea, allowing sailors to take measurements of bright stars (hence the name).
Astronomical twilight ends when the sun moves below 18 degrees from the horizon. Night finally begins and you can observe the stars in a dark sky – assuming that there is no bright moon and there are no clouds are in the way.  
But at Vancouver's northern latitude (a bit above 49º north), the sun does not make it below 18 degrees from the horizon during June and during good chunks of May and July. We don't experience night, with fully dark skies, during these months but remain in the twilight zone until sunrise the next day.
What can observers do? One option is to travel south – traveling a few hours south to Seattle lets you experience close to 1 ½ hours of night according to timeanddate.com. Another option is to observe bright objects that are visible during twilight such as planets, the moon, or bright double stars.